Nick and Sally O'Donnell
Nick & Sally

We started photographing when we were 14, he just outside of Chicago and I in rural southeastern Indiana. Neither of us could have imagined that a decade later, we'd be married and taking pictures professionally. We both studied English in school–I had a minor in journalism that I obsessed over–where we learned how human life revolves around storytelling.

Nick and I met our first year in college. We did not play nice at first. After almost a year of ignoring each other, we were hired at the same coffee shop and became best friends. A year later, realized we wanted to marry each other. So we did.

Now, we live just outside of Chicago in Berwyn where we drink too much coffee, spend a weird amount of time vacuuming, and get really excited whenever we book a wedding because we love shooting together. My first job was at a lovely greenhouse and my second at our college's cafeteria. My third job was at a coffee shop, fourth pressure washing gas stations, and fifth as a journalist. Now I sling cameras. At your wedding, I'll be the one carrying bouquets and chasing down small children for group pictures. Nick has been an intern at a law firm, a barista, a shopboy at an auto garage, a house-flipper, and commercial real estate broker. Nick makes the jokes, carries the heavy bags, and fashions the tourniquets. True story: Nick made a tourniquet for a guest who cut his hand seriously at one of our recent weddings.

Photo: Louie Abellera

.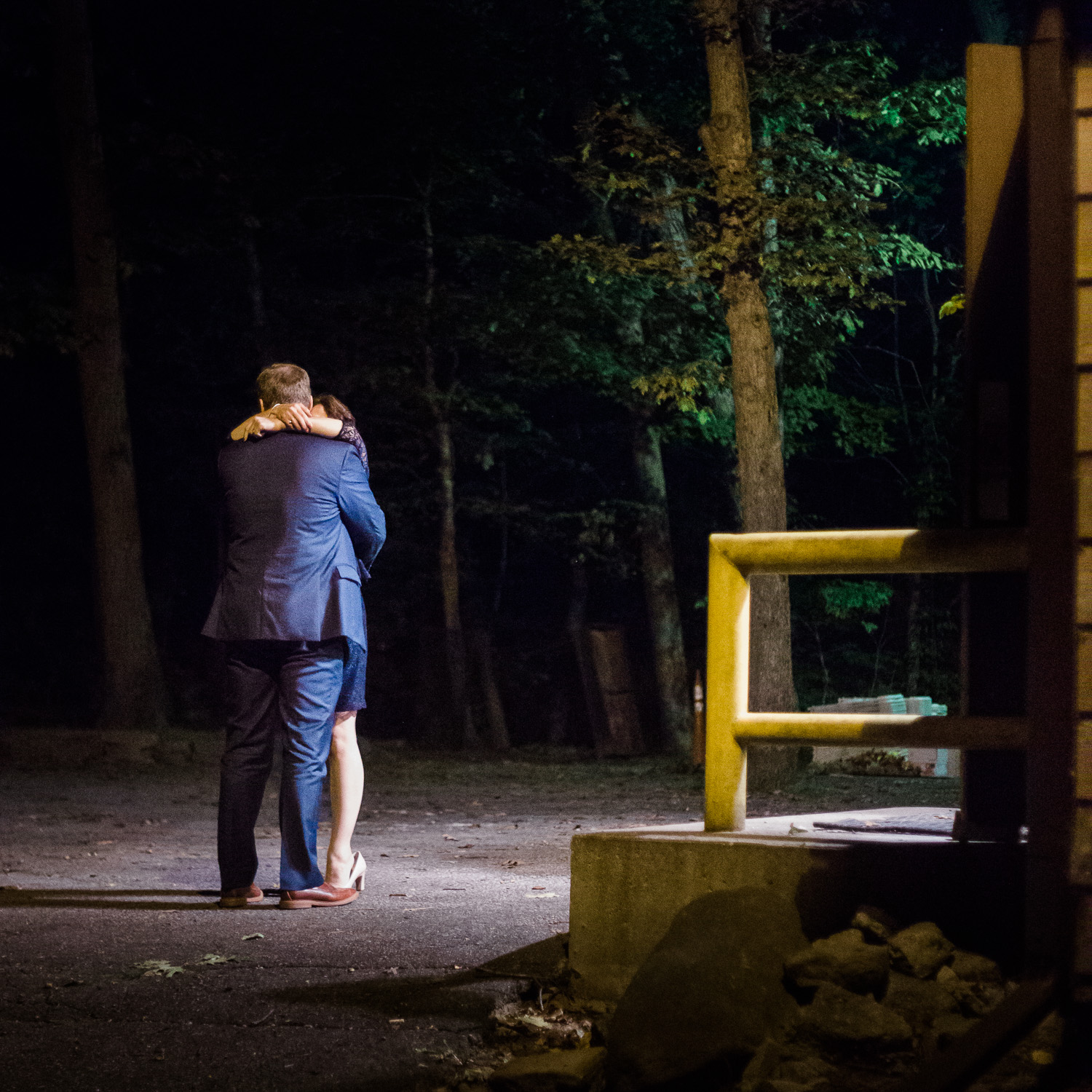 Our Philosophy

My favorite part about journalism is its unpredictability. I love showing up, notebook and camera in hand, at an event to watch and wait for something to happen. I love the people I've met and the stories I've gotten to tell. After I photographed my first wedding, I realized I'd found the perfect way to blend my love of artistic photography and my journalistic drive. A wedding day is so much more than just the beginning of a new family. It's the story of parents and grandparents and how they lived, loved, and created a world for their children. It's the community that molds two individuals into two people ready to become one. A wedding is all of the weaving of all the stories in a couple's life. A wedding makes two histories one.

If I have the honor of shooting your wedding, I will watch for the moments you don't get to see. I will do whatever I can to help make your day better. Nick will be ridiculous and make you laugh. I'll tear up during your ceremony. We'll fall a little in love with the people you surround yourself and the story you have written.

Nick and I shoot as many of our weddings together as we possibly can. Nick has an incredible eye for candid moments happening when I'm focused elsewhere. We love to shoot classic black and whites portraits and romantic detail shots but we care more about the feeling and light and colors and textures of your singular day. We are not natural light photographers; while we absolutely love beautiful bay windows and streaming soft light, we also work with additional lighting when we need to because the most important part of our job is making sure you have the pictures you've dreamed of.

.
Our Location

Nick and I are located just outside of Chicago, IL, but we will travel to you. If your shoot, event, or wedding is within 50 miles of Chicago, the cost of travel is built into your package. Anything outside of that radius, however, is determined on a case-by-case basis. Shoot us an email and we'll figure out how to work with you.

hello@sallyodonnellphoto.com

Sally: 513.226.7680

Nick: 630.546.3506

Email us if you can't find an answer to your questions!

Our photography has been featured by:

Junebug Weddings, The Knot, Midwest Bride, Rustic Wedding Chic, Borrowed and Blue, & Bespoke Bride
---
Destination Weddings & Events
We've worked across the US from Houston to Boston and spent a summer photographing across the country of Kenya.
Click here to see where we've been.
If you're having a destination wedding, we would love to travel to you! We've even traveled as far as Fort Lauderdale, Florida, to shoot senior photos. If you have an idea, we'll do whatever we can to make it happen.
---
Our Favorite Things
Coffee
As cliche as it is, Nick and I became friends after being hired to work at the same coffee shop. Now, we drink too much of the stuff and like needlessly complicated brewing techniques. If a method requires more than 3 steps and 10 minutes, it's likely our favorite way to make coffee.

Books
Our favorite books:
East of Eden by John Steinbeck
The Brothers Karamazov by Fyodor Dostoevsky
The Fall by Albert Camus
The Undertaking by Thomas Lynch
A Farewell to Arms by Ernest Hemingway
The Collected Works of Flannery O'Connor
Gilead by Marilynne Robinson
Shop Class as Soulcraft by Matthew B. Crawford
Kenya
I've spent almost two years in Kenya, living with my family as we adopted my younger sister and later as a photography intern for a nonprofit for refugee women. It's a beautiful country with wonderful people and gorgeous scenery. Nick was able to travel there with me and my family in the summer of 2013. We spent a month there together and were able to go on an incredible safari through the Masai Mara.
Our Home
We live in a suburb just a few minutes outside of downtown Chicago. We love spending time making our home beautiful, warm, and welcoming.

Fair Trade
You'll see these Nisolo shoes if I shoot your wedding. And my Mission Lazarus purse. And my Amani ya Juu jewelry. Every time I travel to a new country, I learn more about the importance of living wages. It's an honor to meet the people that make the things that I use every day and know that they have better lives because of their work.